Plug Into the Most Powerful Volleyball Network on the planet
A Virtual Training Community for Indoor and Beach Volleyball Players Who Want Performance Gains at Their Fingertips
SERVING UP BIG GOALS?
WE DIG IT!
WE KNOW YOU'D DO ANYTHING
Especially when you're hitting performance plateaus or underperforming. Or maybe you're holding back due to pain, or fear of triggering an old injury.
It's frustrating, eating away at your motivation, and has you worried you'll be getting benched and overlooked by coaches and scouts.
You know you're capable of so much more, but feel confused about what's the right way to bring out all that untapped potential. There is a lot of conflicting information and most of the advice isn't even volleyball-specific!
You want to feel confident that if you decide to invest your time and energy into a program, it will actually get you the results you're after. And that you'll get the support and guidance along the way from someone who truly knows the sport of volleyball, and have been where you want to go.
And we get it. Only a true athlete can understand what an athlete needs and Bulletproof Performance was created for athletes – by athletes. We know what it's like to be benched, hurt or feeling like you are underperforming.
We've learned from our mistakes so you don't have to.
IF YOU DON'T MAKE THE MOVE TO START TRAINING SMARTER NOW, YOU'LL CONTINUE TO FEEL THE NEGATIVE IMPACTS...
But it doesn't have to be that way…
PICTURE YOUR GAMES AFTER YOU'VE JOINED
THE BULLETPROOF ACADEMY
PICTURE YOUR GAMES AFTER YOU'VE JOINED
That's what we're ready to make happen in
THE BULLETPROOF ACADEMY
BUT DON'T JUST TAKE
OUR WORD FOR IT...
HERE'S WHAT SOME OF THE BEST PLAYERS IN THE WORLD HAD TO SAY ABOUT THE BULLETPROOF ACADEMY:
Wow! This is amazing!! A great platform for all volleyball lovers to get their hands on. This is so exciting for the future of our sport and I'm so honoured to be able to play a part in this community!
This website is like a living person - someone who is with you 24 hours, giving you all the support you need, whenever and wherever! I wish I had this when I was playing!!
Very good quality of content, very detailed explanation of all exercises, and I love that it is also specialised for beach volleyball players - that is pretty rare!
I just took a look at the Bulletproof Academy and everything has come together so well! Thank you for letting me be a part of it!
I think the platform is easy to use and includes many possibilities to perform better, especially for younger players. I wish I had such a platform when I started my career.
This is the best guide for any indoor or beach volleyball player!! I think this platform is exactly what players need to improve their game and mindset!
It's an awesome platform that can help ay volleyball and beach volleyball player to improve their game, working with a specialised physical program! Come join this community!
The Bulletproof Academy came at the perfect moment when I needed it the most. It helps me prolong my career as a professional player with very useful advice and a different approach to that goal.
I just logged in and the website looks amazing! You guys did a wonderful job!
I just LOVE IT!! I can't wait to start doing all the exercises!
the founder of Bulletproof Performance
I fell in love with volleyball at a very young age. At 15 I moved away from home to attend a national volleyball academy. I was a young, aspiring athlete, willing to do anything to get better and reach my goals. However, the academy was new and located deep inside one of the Norwegian fjords. This meant our access to proper strength & conditioning coaches and physiotherapists was limited. So although I eventually managed to reach my volleyball goals, that lack of support and guidance also meant I worked myself into a lot of trouble, unnecessary injuries, and detours along the way…
Now, after more than a decade working as both a physiotherapist and sports performance coach, I created Bulletproof Performance because I wanted to develop something that could be the support, structure, and guidance I wish my 15-year old self would have had access to back then. A program, a system, and a community that could help give players the performance gains they so desperately want, in the fastest and most efficient way, but at the same time help them steer clear of injuries and setbacks.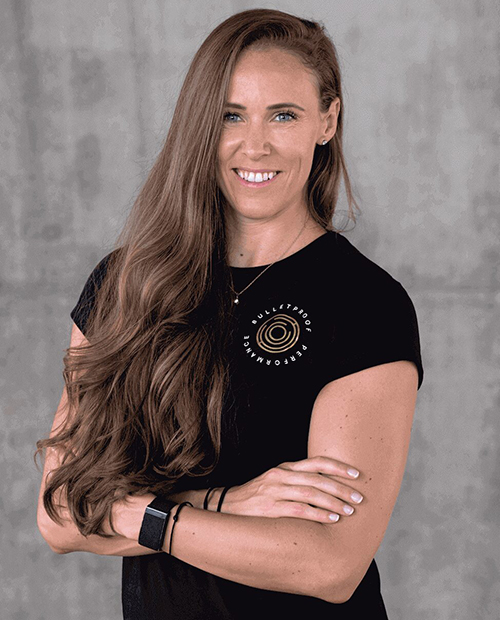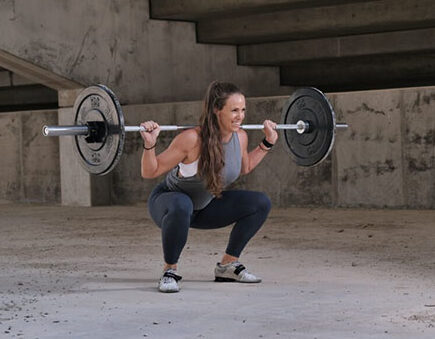 Bulletproof Performance was designed to give volleyball players like you anywhere in the world, access to elite-level training and knowledge. A place where you'll find all the resources, inspiration, and support you need to improve and be the best you can be – both on and off the court. And best of all, a community filled with like-minded players that want to see you win and makes you feel at home.
TRAIN LIKE THE PROS – WITH THE PROS
BULLETPROOF SET YOU UP FOR SUCCESS
When you join, you'll get...
FULL, INSTANT ACCESS to
the Bulletproof Academy
Where you'll get insights from world-class professionals, learn how to fast-track your volleyball performance, and access your training material at any time, from anywhere.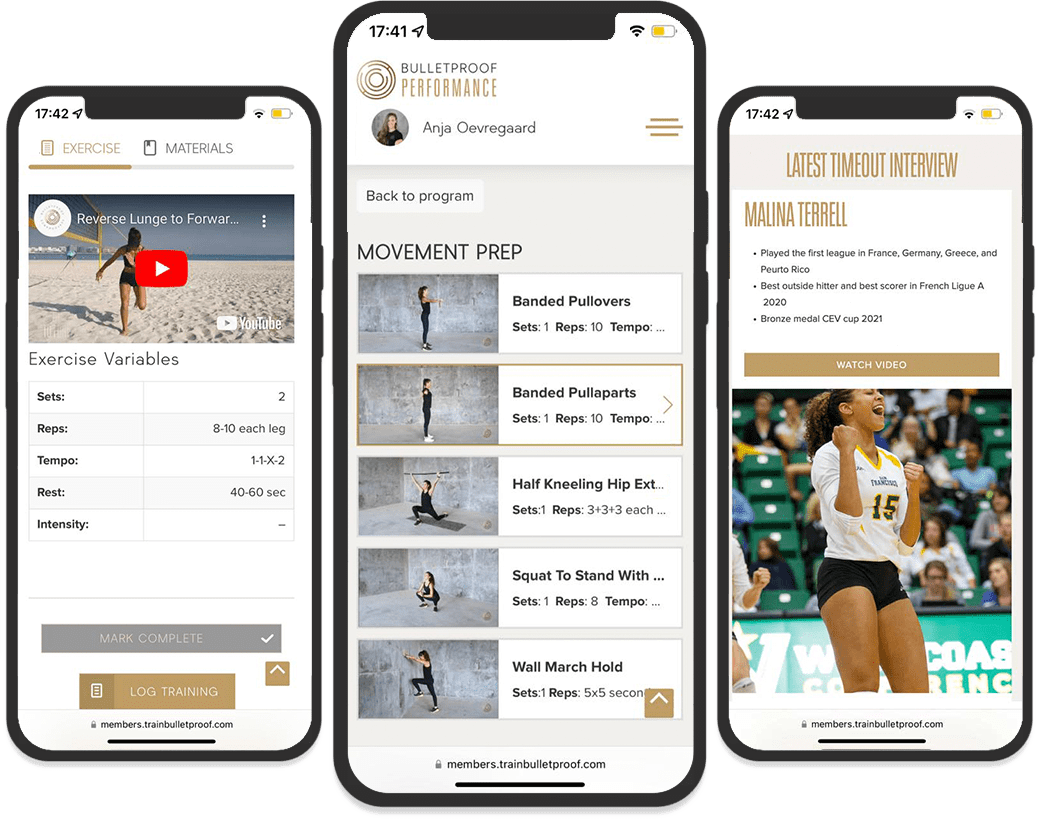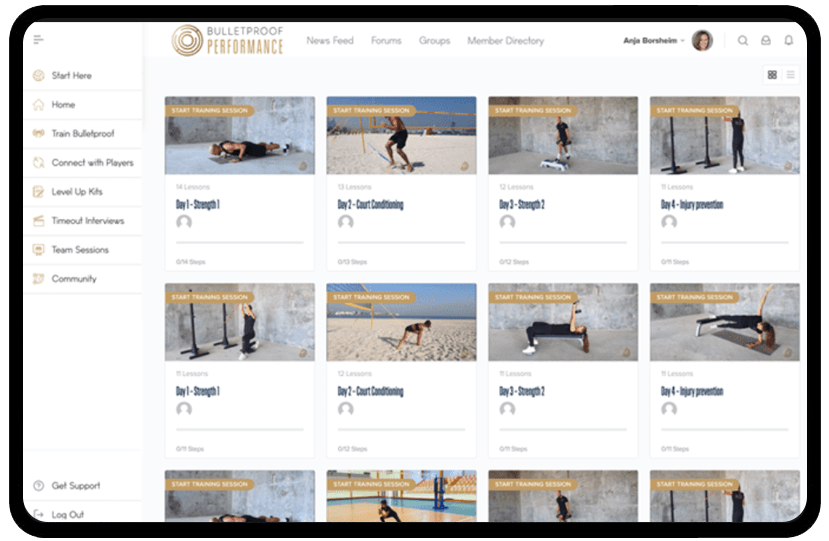 Week to week Bulletproof Programming
Tailored to your sport and your season schedule, so you can get the right training, at the right time, bulletproof your body, and take your vertical jump to unimaginable heights!
Team sessions and live Q&A calls
Work with us (and our extended team of experts) directly, get individual support and feedback, and connect with like-minded players during our regular, live virtual sessions!
All Our Level Up Kits
Get expert tips not only to boost your physical performance, but on topics like mental training, nutrition, rehab protocols, career challenges, provided by only the best in the world.
New Monthly TimeOut Interviews
Get the inside scoops from the very best of the best. Pick the brains of your favorite pro players in the world, and get your questions answered on the spot!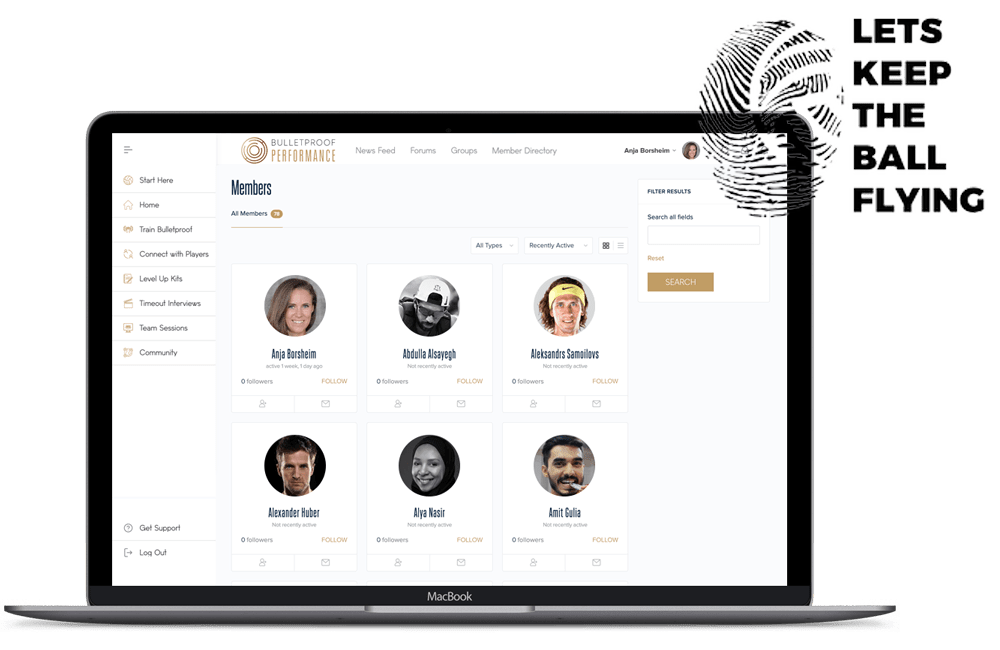 The number one volleyball community
Get access to our player's lounge, be inspired by your fellow athletes' journeys, and make accountability buddies across the volleyball world…
Give back to the sport we all love
For every paying member in our academy we give away free access to a player supported by our charity partner, Let's Keep the Ball Flying.
Get Started Now!
Choose the academy membership that's right for you
Ready for the next level!
Monthly Plan [35$/month] Billed Monthly
Annual Plan [30$/month] Billed Annually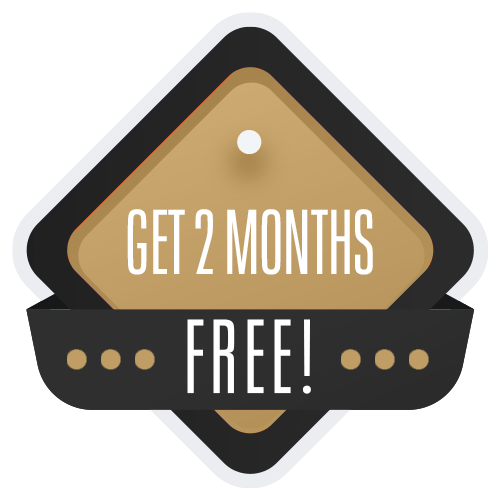 "NOW I FEEL LIKE A BEAST ON THE COURT!"
"Even as a National team athlete, I've never really felt strong or explosive. That all changed after training with Bulletproof Performance...
I almost can't believe what a difference only two months could make, and that all it took was a proper program. I feel much faster and more explosive on court and my spikes are waaay stronger than before!
Bulletproof Performance is the most comprehensive, personalised and progressive training program I have ever followed, and the results speak for themselves!"
THE BULLETPROOF ACADEMY IS FOR YOU IF…
THE BULLETPROOF ACADEMY IS NOT FOR YOU IF…
… if that sounds like you, then the Bulletproof Academy is not the right fit.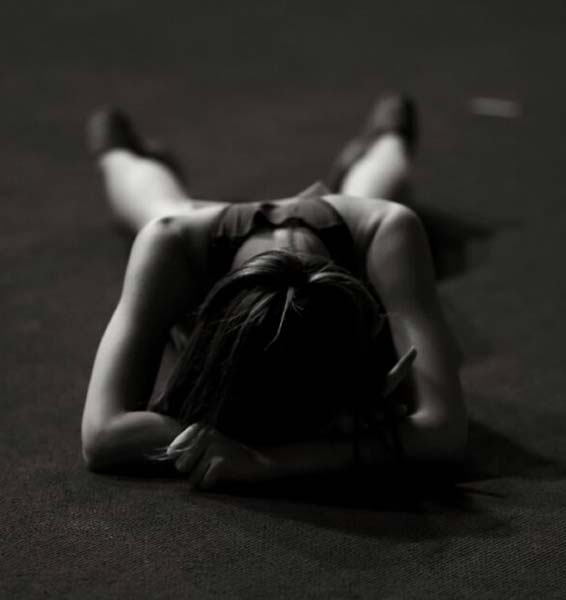 THIS ISN'T JUST ANOTHER GENERIC TRAINING PLAN...
THE BULLETPROOF PROGRAMMING
AKA. YOUR ROADMAP TO FLYING HIGHER THAN EVER
It's a professionally formulated,
volleyball specific program, created by top volleyball players,
performance coaches and injury prevention specialists.
It's a program that will drastically improve your ability to
jump higher, spike harder and dig deeper.
It's a program that will take your
volleyball game to the next level!
ANY TIME. ANYWHERE.
ON-DEMAND!
The Bulletproof Academy is a one-of-its-kind, online performance program where you can access your workouts and get elite-level, volleyball-specific training from wherever you are. Feel faster, stronger, and more powerful on the court than ever before.
TRAIN WITH THE BEST. TRAIN BULLETPROOF.
WHAT ELSE IS INCLUDED IN YOUR MEMBERSHIP?
WE'VE GOT EVERYTHING YOU NEED TO BE PLAYING AT THE TOP OF YOUR GAME...
Being able to perform your best comes down to more than just physical training. That is why we have created a 360* approach to help you achieve peak performance.
Level Up Kits are power-packed educational kits designed to help you improve all aspects of your game.
Get access to masterclasses from industry experts and coaches on topics like strength & conditioning, injuries, nutrition, sleep and recovery, and mental training. But they will also address all the professional obstacles you'll encounter along the way, like getting scholarships, going pro or semi-pro, financial planning, and much more.
DIVE DEEP INTO TOPICS LIKE...
How to change your relationship with pain and injury
You'll learn:
 The REAL truth about pain
How to deal with pain when you're training and competing
How to fast-track your own rehab, so you can get back in the game ASAP
How to maximize your vertical jump
You'll learn:
The real secrets to maximizing your vertical jump - the proven methods that work and are supported by scientific evidence
What won't make you jump any higher - The biggest myths when it comes to increasing your vertical jump
Plyometrics and shock methods - what are they? And when and how should you use them?
How to win more games using beach volleyball tactics - with Marco Solustri
You'll learn:
The strategy that will throw even the best blockers in the world off their game
How to become friends with the wind and use it to your advantage
How to trick strong servers to serve right into your hands
How to use volleyball-specific testing and tracking to maximize your training results
You'll learn:
Which physical tests are the best and most relevant for a volleyball player
Why and how often you should be testing
The best and easiest ways to track your test results and training
How to overcome the mental side of returning to sport after injury
You'll learn:
Why it's so important to address the mental side of injury to prevent future sports performance blocks
Practical strategies to prepare you mentally for your comeback on the court
The step-by-step process of how to successfully return back to the sport you love after injury, without any fear of re-injury
How to implement Olympic weightlifting for volleyball players
You'll learn:
A step-by-step breakdown of the two Olympic lifts by world-class level Olympic weightlifting athletes
Why using Olympic lifts can take your volleyball game to the next level
How to start implementing Olympic weightlifting into your training program
Yoga for volleyball players
You'll learn:
A pre-game full-body activation

- which you can incorporate ahead of practice, games or tournaments to make sure you are fully tuned in and your body tuned up and ready to perform.

 

A post-game recovery flow

- to help you cool down, speed up recovery and calm your mind after any volleyball game or other intense training session.
YOU'LL GET INSTANT ACCESS TO OUR ENTIRE BANK OF LEVEL UP KITS WHEN YOU JOIN!
Have you ever wondered what's inside the mind of your favorite volleyball player?
What they have experienced during their career and what got them to where they are now? What it really takes to become the best of the best?
Our Time Out Interview Series is where the top volleyball players from around the world dedicate their time and energy to bringing you the real inside scoop on how they've accomplished so much in their careers. You'll hear their stories, get inspired by their strategies and approach to training, and feel like you're on the team with them in our Time Out Interview Series.
Here's a sneak peak of what you can expect in our TimeOut Interviews!
You'll get exclusive insider tips from world-class players such as...
MARIAFE ARTACHO DEL SOLAR​
Latvian National Beach Volleyball Team
Gold European Championship 2019
Semi-finalist Tokyo Olympics 2020
Cuban National Indoor Volleyball Team
Played the first league in Brazil, Korea, and Russia
Best outside hitter Russian Superleague 2019/2020
Latvian National Beach Volleyball Team
3x World Tour Champion and 1x European Champion
3x Olympian (2008, 2012, 2016)
Serbian National Indoor Volleyball Team
Silver and bronze medal in the Olympics (2016, 2020)
Gold medal World Championship, World Club Championship, and European Championship
Swiss National Beach Volleyball Team
CEV Continental Cup Winner 2021
1st place King of the Court 2020
Italian National Indoor Volleyball Team
Bronze Medal and Best Server London Olympics 2012
2x European Champion
Dutch National Beach Volleyball Team
3x Olympian (2012, 2016, 2020)
2x European Champion
Brazilian National Indoor Volleyball Team
Gold World Grand Champions Cup 2017
Silver FIVB World league 2017
Austrian National Beach Volleyball Team
Olympian (2016)
U23 European Champion (2006)
Japanese National Indoor Volleyball Team
Played first league in Japan, Brazil and France
Olympian (2008)
Inside the Bulletproof Academy, you'll find...
EVERY MONTH WE WILL BRING YOU NEW EXCLUSIVE INTERVIEWS WITH YOUR FAVORITE INDOOR AND BEACH VOLLEYBALL PLAYERS!
Pssst...this isn't just a one-way street. You'll get the chance to join the calls live and pick the brains of these amazing players yourself! What questions would you ask them?
THE BULLETPROOF ACADEMY WORKS!
CHECK OUT WHAT OUR PLAYERS ARE SAYING ABOUT US
I added 29 cm/11.4 inches to my vertical jump after training with Bulletproof Performance!
This is THE program for any athlete looking to take their performance to a higher level. It's well organized, fun, challenging, and tailored to fit your life.
I am now 4 months into the program and I can really notice the difference in my performance and my muscles. I recently went back to my club after the summer break and I crushed all of my previous test results! 
I'm stronger, faster, and jumping higher than ever. I would highly recommend the program to anyone who wants to take their game to the next level!
ALYA NASIR
UAE Women's Indoor Volleyball National Team
"If you want a dedicated, thoughtful and high quality volleyball program - this is it!"
Recently turning 30 I realized I could no longer keep my level up by only playing beach volleyball. My body would get tired and achy a lot faster than it used to.
I started training with Bulletproof, and I have definitely not regretted it! The entire concept is excellent. It's fun, efficient, and innovative - the complete opposite of your standard off-the-shelf program.
I've been surprised at how much untapped potential I've been able to access, and both my body and my game is feeling better across the board. I'm jumping higher and my agility and explosiveness is back!
JAN RADEL
Indoor Volleyball Player
"I went from dreading my gym sessions, to loving them!"
If you want to improve your game, I would highly recommend this program! Before I was having a hard time finding a trainer who understood what I really needed and who could give me volleyball-specific exercises. It was affecting my motivation to train and I was struggling being consistent with my workouts.
But after I started training with Bulletproof instead I found myself being excited about going to the gym, because I knew I was working on something that would specifically improve my game!
After just a few weeks all my strength tests were way better already. I had also been battling with a painful shoulder for the last couple of years, but after training with Bulletproof it's completely gone!
NATALIA TOMASZEWSKA
Indoor Volleyball Player
"I feel stronger than I did before my surgery!"
I started working with Bulletproof Performance right after having had shoulder surgery. The surgery was stressing me out and I was worried I would never be able to play volleyball again! 

However, after training with Bulletproof I regained full strength and mobility of my shoulder, and was able to get back on the beach volleyball court without any pain in the shoulder. Throughout the process, I gained back the confidence in myself and my shoulder, and made a successful comeback feeling even stronger than I did before!
ABDULLAH AL SAYEGH
Beach Volleyball Player
"I'm jumping higher, my strength has doubled and I can really feel the difference on the court!"
Before working with Bulletproof I didn't have any schedule or routine for my training and I didn't know what would be the best exercises to help me achieve my goals. It was demotivating and I didn't want to start working out again because I had no clue where to start. 
Now, thanks to Bulletproof Performance, I found my drive again! Structure is important to me and I love the powerful simplicity of this program. It's exciting and motivating knowing I'm doing exercises that will get me closer to where I want to be!
KATARINA BEDNAROVA
Beach Volleyball player
"Training with Bulletproof is the reason my life is back on track!"
I took a year off from playing beach volleyball due to some repeating injuries that were really getting in the way of my improvement.  When I decided to start getting ready for the new season, I approached Anja because I had worked with her previously and she's a great volleyball player herself.
The combination of Anja being a physiotherapist/strength & conditioning coach/athlete was a definite win. I did 3 months of off-season training with her which yielded amazing results - I added 15 cm/6 inches to my vertical jump!
Thank you, Anja, you brought joy back into my life, and that's such a noble act.
ARSALAN AL HASHIMI
Beach Volleyball player
"I've never felt better on the court!"
The Bulletproof Performance program is the perfect pre-season preparation that any athlete needs in order to physically and mentally prepare themselves for the season. It gives you so much strength and drastically decreases the possibility of injury. 

I really recommend this program to anyone who has a passion for volleyball and is dedicated to work hard in order to excel in the sport. I want to thank Bulletproof Performance for helping me achieve my goals when it comes to my vertical jump, and making me feel faster, stronger, and more powerful on the court than ever before!
NADWA AL SAWAN
UAE Women's National Team Indoor Volleyball
"This program WORKS!!"
For a long time, I was struggling to find the right training to get better. But now after working with Bulletproof I finally got the improvements I was looking for. My speed and vertical jump are better, and I can feel the difference on the court. I would recommend the program to anyone!
DONATAS MOLOTOKAS
Beach Volleyball Player
100 % OF OUR ATHLETES ARE SATISFIED
WITH BULLETPROOF PERFORMANCE!
We've never had an athlete complete our program and not have amazing results. If you ever feel like the Academy isn't working for you, let's chat and we'll make it right.
This membership is for players who are 110% committed to achieving their volleyball goals.
You are ready to work hard, train hard, and play hard!
GIVING BACK AND GETTING STRONGER
HELP US UNLOCK THE POWER OF VOLLEYBALL AROUND THE WORLD!
At Bulletproof Performance we believe that empowerment starts through knowledge, which is why for every paying member in our academy we give away free access to a player supported by our charity partner, Let's Keep the Ball Flying.
*You should consult your physician or other health care professional before starting any nutrition and/or fitness program to determine if it is appropriate for you. We cannot predict and do not guarantee that you will attain a particular result, and you accept and understand that results differ for each individual. Any results shown through our website represent players that gave their best and consistent effort and are only estimates of what might be possible now or in the future. Each individual's results depend on his or her unique background, dedication, desire, motivation, actions, and numerous other factors.